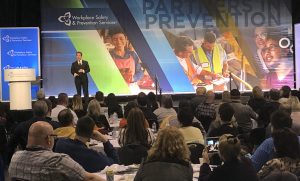 Being safe and healthy at work was the theme of the day at Partners in Prevention 2019 conference and trade show at the International Centre in Toronto, Ontario. The show is billed as "the largest and longest-running health and safety conference and trade show in Canada," and this year it put a special focus on 'safety superheroes.'
To that end, one of the booths was Batman with his Batmobile, available for photos and a quick chat. In all over 400 booths were on the show flour, with various exhibitors showcasing their products, technologies and what is the latest and greatest.
The highlight for many visiting the show was a keynote by Canadian comedian, Rick Mercer. A standing room only crowd took in the keynote while enjoying lunch. Scott Stratten, social media influencer, presented a keynote on The Age of Disruption: Everything Has Changed and Nothing is Different. The final keynote was by Mark Henick, advocate and speaker on mental health, presented A Moment on the Edge: How Small Encounters Change Lives.
Additionally, over 60 sessions were available to learn about various health and safety topics. A quick cross-section of sessions includes: Serious Injury and Fatality Prevention: Perspectives and Practices; Misconceptions and Pitfalls of PSRs – A Honda Canada Perspective; Mental Health in the Workplace Forum; Smartphones and the Pursuit of Workplace Wellness; Up the Ante on Workplace Mental Health/Wellness; and Millennial Management – Maximizing Millennial Tenure and Leveraging Their Potential.