Mercedes-Benz Vans Canada recently held a fleet event at its Training Academy in Mississauga, Ontario for the Canadian debut of its all-new 2019 Sprinter.
While the all-new Sprinter was first launched in Germany back in February, for many attendees this was the first opportunity to see and touch the vehicle in person. Now in its third-generation Sprinter has seen a plethora of changes from the previous model.
"The Mercedes-Benz Sprinter has been the leader in its segment since it was introduced to Canada in 2010," said Nicolette Lambrechts, Vice-President of Vans, Mercedes-Benz Canada. "Now in its third generation, the 2019 model comes equipped with new features and capabilities that make it stand out even more."
For 2019, a four-cylinder engine has been added to the line-up. It features 258 foot/pounds of torque and 188 horsepower, and is mated to a nine-speed automatic transmission. It joins the six-cylinder diesel engine, which offers 325 ft/lbs of torque and 188 hp mated to a seven-speed automatic transmission. The outgoing model's four-cylinder diesel engine will not be available for 2019.
Two new trim levels are available for 2019, with a 1500 and a 4500 joining the 2500, 3500 and 3500XD. The 1500 level trim is available only with the gas engine, single tires, and in 144" wheelbase, while on the flip side the 4500 is only available with the diesel engine and dual rear wheel. Four body styles will be available for 2019, with cargo, crew, passenger and cab chassis available in various trims and options. Rear-wheel-drive and all-wheel-drive are available depending on trim level (four-cylinder engine models are RWD only).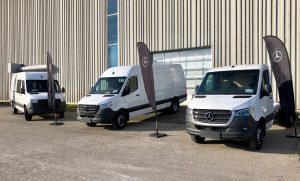 For those using the Sprinter as a work vehicle, one of the most important aspects is how much load can be transported. With the variety of customization available (with various trims, engines, body styles), that number can vary. Cargo vans with the six-cylinder diesel engine have a maximum payload of 3,010 kilograms, passenger vans offer 1,298 kg, and cab chassis are 3,395kg. Numbers for four-cylinder models are not yet available. Also of importance is the towing capacity of the Sprinter, which is 2,268 kg or 3,402 kg depending on model specifications.
"These include an efficient new gas powertrain, an impressive suite of MBUX (Mercedes-Benz User Experience) connectivity features, and a variety of transmissions – not to mention new payload capacity and industry-leading safety systems," said Lambrechts. "With these updates, Mercedes-Benz Vans now offers solutions for an even wider array of commercial vehicle needs. The new Sprinter is truly able to deliver, no matter the requirements."
A new multimedia system is added for 2019 as the company brings the Mercedes-Benz User Experience (MBUX) to the Sprinter. The system works similar to digital assistants on various smartphone platforms, as saying "Hey Mercedes" cues it up. It can be operated by voice control, touchscreen, touchpad, and touch control buttons on a steering wheel. The system is paired with optional seven-inch or 10.25" touchscreen displays.
New safety features added for 2019 include: Attention Assist, Active brake Assist, parking package with 360 degree camera, backup camera with parking package, and Active Distance Assist. These are in addition to options that were already available on the previous generation model.
Mercedes-Benz Canada also offers a ServiceCare Product, which allows customers to buy a package that offers maintenance (service), extended limited warranty (repairs), extended limited warranty and maintenance or a complete solution (service, repairs, and wear and tear). Prices vary depending on the package and vehicle type.
Now in its third generation, the Sprinter has been a reliable choice for those who rely on a van for their day-to-day operations. With the 2019 Sprinter, Mercedes-Benz has taken its van offering and modernized it for the current automotive landscape.