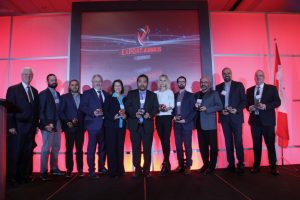 The 2018 Ontario Export Awards named its winners at a gala at the International Centre in Mississauga.
Laipac Technology Inc., was named Exporter of the Year for its success expanding its business to more than 100 countries and for its commitment to growing its Ontario footprint.
"This year's winners share an ability to overcome market tensions and fierce competition outside of Canada to grow into complex markets," said Tim Dimopoulos, Vice President, Annex Business Media. "We congratulate all winners and wish them continued success in the future."
Over 150 manufacturing executives and representatives from trade, government and industry attended the event. The awards recognize leadership, exporting growth and the creation of local jobs across a diverse range of sectors of Ontario's economy.
"Ontario companies are proving you can take on the world and win," said Jeff Brownlee, Publisher, Canadian Manufacturing.com and Plant Magazine. "This year's export award winners each share incredible international success stories and are models for others to emulate."
Winners included:
Clean Technology: Hydrogenics Corporation
Consumer Products and Technology: Laipac Technology Inc.
Food, Beverage, and Agriculture: Viva Naturals Inc.
Manufacturing and Resources: Concours Mold Inc.
Services: Switch Video
Transportation Equipment: INKAS Corp.
Emerging Exporter: Thornhill Research
Leadership: Innovative Automation Inc.
Export Excellence: Trade Accelerator Program (TAP)
Machines Italia Global Reach Award: BGI Retail Inc.
Exporter of the Year: Laipac Technologies Inc.