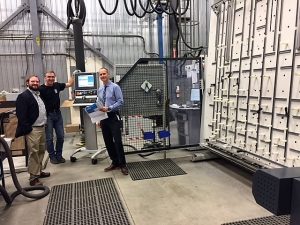 Rittal Systems Ltd., has been named to the 2018 Top 10 Best Workplaces™ Manufacturing list for the second consecutive year. Rittal was also recently named as one of the Best Workplaces™ in Canada.
"This great honour of being declared as a Great Place to Work in Canada, and now on the list of the Top Ten Manufacturers in Canada, is only possible because of the hard work and commitment from every person on the Rittal team, and it is truly amazing what can be accomplished when everyone is working together towards the common objective of customer excellence," said Tim Rourke, President, Rittal Systems Ltd.
Great Places to Work analyzed data, which included direct feedback from employees of hundreds of organizations. To be eligible, organizations had to be Great Place to Work Certified™ in the past year, have at least 15 employees, operate in Canada, and score a minimum 90 per cent positive score to the statement "This is a physically safe place to work."
The data has a 90 per cent confidence and a plus or minus five per cent margin of error.