Rollomatic Five‐Axis Pinch/Peel Grinder
June 16, 2020 | By Mario Cywinski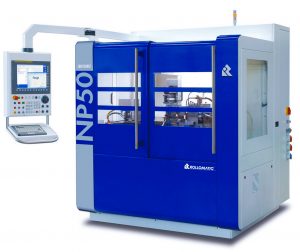 Rollomatic ShapeSmart NP50 pinch/peel grinding machine has new capabilities for high‐ accuracy punches and pins.
The non‐round process includes full pinch/peel grinding. Oblong punches, form punches, squares out of centre, corner radiuses, and any other shape can be produced with this method. The NP50 is designed and dedicated for cylindrical grinding of carbide, HSS and stainless-steel components.
Pinch grinding offers concentricity, particularly on long and thin parts. The rough and finish grinding are performed in one pass. The machine utilizes two different grinding wheels running on separate spindles and positioned on independently controlled CNC linear slides.
Features:
-Various materials can be ground such as carbide, ceramics, tool steel, and stainless steel;
-Positioning camera for grinding coolant slots in blanks with coolant through‐holes with parts flipper;
-Roughing spindle rapid change‐over from 0° to 10° to 90°;
-Roughing and finishing spindle direct drive, both 20 horsepower;
-Direct‐drive workhead;
-Option for grinding extra‐long parts, total grinding lengths of 16" and blank length of 19";
-Marposs in‐process gaging and Renishaw pre‐ probing system;
-Form grinding of cutting tools blanks;
-Production grinding of precision punches, including non‐ round; die and mold components, and parts for injection molding industry.