Pfannenberg PATROL Series Flashing Sounders
June 21, 2019 | By MRO Magazine
Pfannenberg PATROL Series Flashing Sounders for fixed gas detection alarming. Designed to alert personnel of an evacuation when there is presence of hazardous gas, these combined signalling products increase safety when used with ammonia, carbon dioxide, Freon, methane, or chlorine gas monitoring systems.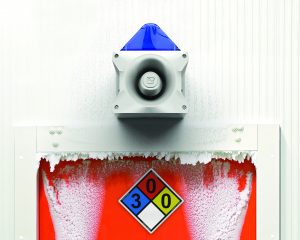 They offer 80 pre-programmed alarm tones with four stages for distinctive signalling of specific events. A single device in heavy-duty industry (90+dB) can cover over 350,000ft³ (visual) and 800,000ft³ (audio) with an effective viewing distance of nearly ¼ of a mile.
PA 1 PATROL Series Sounder's UV-resistant and flame-retardant polycarbonate/ABS impact-proof housing has an IK08 impact rating. The xenon strobe flash tube contains no filament to break is inherently resistant to shock and vibration, and is secured by a steel clamp.
The lens cover is large, highly visible, and available in a variety of colors.