Baltimore Aircoil Company HXV Hybrid Cooler
May 7, 2020 | By Mario Cywinski
Baltimore Aircoil Company (BAC) HXV Hybrid Cooler, offers both evaporative and dry cooling and is water saving and energy-efficient.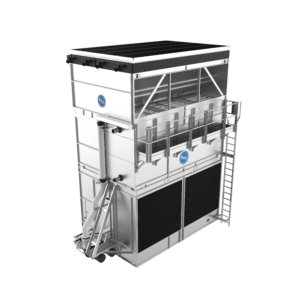 Evaporative cooling, allows the HXV to be up to 60 per cent more energy-efficient than air-cooled systems. BAC's combined flow technology, combines parallel air and water paths. HXV offers up to 70 per cent water savings compared to traditional fluid coolers with the ability to run with reduced water during the majority of the year.
The HXV Hybrid Cooler also offers 25 per cent maintenance savings compared to traditional fluid coolers. Immediate access to the cold-water basin, prime surface coil, and the fan drive system, helps with maintenance. Operators can inspect the spray distribution system while the unit is in operation.
HXV includes multiple fans and optional redundant pumps.
www.BaltimoreAircoil.com.