ABB Dodge Food Safe Bearings
February 25, 2019 | By MRO Magazine
ABB launched Dodge Food Safe mounted ball bearings, designed to withstand caustic, high-pressure cleaning and sanitation processes. The bearings are first industrial bearings to achieve IP69 water protection rating without use of an end cover. Also are only bearings to carry warranty against failure due to water ingress.
"Food Safe bearings solve the two most common reliability problems in the food industry – grease washout and corrosion," said David Kaunitz, Dodge Mounted Ball Bearing Product Manager, ABB. "We are so confident in our design that if a customer registers their Food Safe bearings, they will receive a one-year warranty against failure due to water ingress."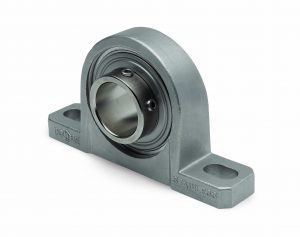 Food Safe bearings are resilient against cleaning agents. Bearings have a 100 per cent stainless steel insert design combined with a top coat, KleenTec, offers protection against corrosion. The housing without a grease fitting minimizes contamination harbour points. The bearing is sealed and lubricated for life to minimize maintenance costs.
To prevent grease wash-out, the Food Safe bearing is equipped with lubrication protection. Hydro armor sealing system, with a stainless steel flinger and four contact lip seals, prevent water and contamination from entering the bearing. ABB's ball retainer, the Maxlife cage, retains a large volume of grease in compartments around the rolling elements to prevent wash-out during high pressure cleaning.
Food Safe bearings are available in a variety of housing styles, including pillow block, tapped base, flange and take-ups ranging in sizes from 20mm up to 50 mm.