For a while now, there has been talk of Fiat Chrysler Automobiles (FCA) entering the growing mid-size pick-up market with its Jeep brand. Spy shots of what people believed were test mules out in the wild were all over the internet. This went on for a while, until FCA announced it would be building a mid-size pick-up truck by way of its Jeep brand that would look and have the capability of its Wrangler off-road utility vehicle.
When the vehicle and its name, Gladiator, was finally unveiled, the hype machine went into overdrive. If the rumours were to be believed, everyone and their brother wanted one. Some of this seemed to be true as reports of dealers selling out stock before the trucks even arrived were widespread.
With the mid-size pick-up market in Canada dominated by the Toyota Tacoma, which offers an off-road version in the guise of its TRD Pro models, and models available from General Motors (Chevrolet Colorado/GMC Canyon), Ford (Ranger), Nissan (Frontier), and the unibody Honda (Ridgeline), the growing segment already has a lot of competition. Other brands also sell mid-size pick-ups globally, but have so far not brought them to our shores.
Apart from the hype, what does the Gladiator offer that will help it cut into the market share of the existing players in the market? For one, while FCA says that the vehicle is completely new and not just a Wrangler with a cargo bed attached, that is exactly what it looks like. Therefore, while it may be new, it has a long-established pedigree that has been established by the Wrangler (and all its other names over the years).
"Unquestionably a truck and instantly recognizable as a Jeep, the all-new 2020 Gladiator is the ultimate vehicle for any outdoor adventure," said Tim Kuniskis, Head of Jeep Brand – North America. "There is tremendous demand for this unique vehicle from our loyal Jeep customers and pickup truck buyers everywhere. Born from a rich and proud heritage of tough, dependable Jeep trucks, Gladiator combines rugged utility, versatility and functionality resulting in the most capable midsize truck ever."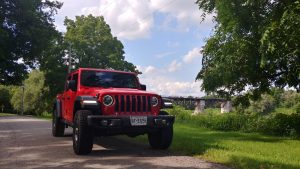 This being a mid-size pick-up it is not for those who need to move around a lot of large payload, as the five-foot cargo box (1,531 millimetres with the tailgate closed) is much smaller than on a Ram 1500. Ultimately, this truck is for those who want a Wrangler, but also need a cargo bed to move certain things from one location to another. Or be able to tow (1,814kg to 3,469kg depending on how its equipped) equipment to a job site, or off the beaten path. Which is where the Gladiator is most at home, when it is driven off the main road, something that many contractors, job site workers, etc., experience on a daily basis.
Now, not everyone who gets one of these will be taking off-roading, and with it being longer than a typical Wrangler Unlimited model, it is more planted while driving on mainly flat terrain, and a little less tippy feeling. However, the longer wheelbase (at 3,487mm) also makes it less nimble when you do decide to go over those boulders on the job site. That being said, this is still a Jeep, so while not as off-road savvy as a Wrangler, it is still a capable off-roader.
Power for the Gladiator comes from the Pentastar 3.6 litre V-6 (which in one variation or another populate the FCA product family), with 285 horsepower and 260 foot-founds of torque mated to an eight-speed automatic transmission or a six-speed manual transmission. A 3.0L diesel engine will be available in 2020, and offer 260 hp and 442 ft/lbs of torque, mated to an eight-speed automatic transmission as standard.
The vehicle is available with trailer sway control, the cargo box offers standard cargo lights, dampened tailgate, tie-down loops, and optional spray-in bedliner and roll-up tonneau cover.
Three sizes of FCA's uConnect system is available starting with the standard five-inch screen, to the seven-inch, and up to the 8.4". The instrument cluster comes with a standard 3.5-inch screen, or an optional seven-inch.
Gladiator is available in Sport, Sport S, Overland, and the most off-road capable Rubicon model.