Finland – In 2015, Santasalo performed an overhaul on the largest gear unit in its history, carried out at the company's facility in Jyväskylä, Finland. The overhaul was carried out on the main gear unit of a steel smelting converter at SSAB Europe's Raahe mill in Finland. The converters are an essential part of the steel manufacturing process, which produce liquid steel for the next stage in the process. The overhaul was performed during the rebuild of the complete converter within a challenging 10-day schedule.
In addition to mechanical repairs, the project included an upgrade of the lubrication system which incorporated a new modern lubrication unit and related piping. This was installed to provide pressurized lubrication for the main gear unit and two primary gear units operating the main unit. A CMaS condition management system was also installed into the lubrication system to monitor the condition of the power train based on wear particle detection.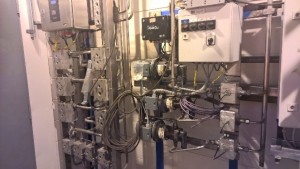 The overhauled gear unit weighs ca. 77 metric tons and the external dimensions are 5.5 x 5 x 3 metres. The sheer size of the gear unit and its components combined with the strict delivery time required thorough planning prior to the work in the factory. For example, innovative procedures were used to ensure accuracy when fitting the large conical roller bearing of the low speed shaft.  This process utilised mobile 3D-measurement equipment and calculation software.
Seppo Marttio, Project manager, SSAB comments: "We are very pleased with Santasalo's performance and results with the first rebuild project and its lead time. The gear units in key positions have now been serviced and the lubrication system has been replaced using the latest available technology. Additionally, we can now live without surprises as the condition management system has been installed. Santasalo has proven to be flexible, high-quality, and reliable supplier and it's very convenient to continue our cooperation in the following two rebuild project during 2016."
For more information, please visit www.santasalo.com.