When the barrage of press materials hailing from fluid power component and system companies gearing up for IFPE 2017 flowed into our inboxes as early as November 2016, we knew this year's show would be another blockbuster.
The International Fluid Power Exposition, which is co-located with CONEXPO-CON/AGG 2017, runs every three years and is a haven for power transmission and motion control enthusiasts. The show is co-located with CONEXPO-CON/AGG 2017 and runs every three years.
This year's show didn't disappoint. The general sentiment was that exhibitors were writing sales and attendees were there to buy.
"I think there is a noticeable difference in the attendees at this show, and the difference is their optimism," said Gradall Industries President and 2017 Association of Equipment Manufacturers (AEM) Chair Michael Haberman.
Dave Foster, vice president for Marketing & Corporate Communications at Volvo CE, agreed. "These are not tire-kickers. These are people who are willing to buy multiple machines for work they have now and anticipated growth based on a renewed confidence in the market," said Foster.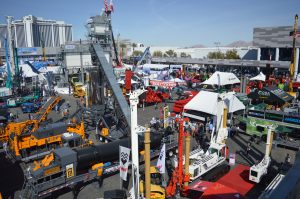 Numbers Game
More than 128,000 attendees descended on Las Vegas, Nevada for the week of March 7 – 11, 2017. Attendees from 150 countries saw more than 2,800 exhibitors that took up the shows' record 2.8 million-plus net square feet of exhibits of exhibit space. Amid the organized chaos, exhibitors from the leading U.S. and global manufacturers cemented the global scope of the show.
Attendees purchased a record-breaking 52,000 tickets for 143 education sessions, grouped into 10 tracks, including a new Technology track. IFPE 2017 hosted a comprehensive educational program, including the industry-wide Energy Efficient Hydraulics and Pneumatics Conference and hands-on courses on effective use of hydraulics in mobile equipment.
On the show floor, IFPE 2017 featured the Power Transmission Distributors Association (PTDA) exhibit pavilion, and CONEXPO-CON/AGG 2017 included the Lift Safety Zone from the National Commission for Certification of Crane Operators and International Powered Access Federation.
Testing economic waters
The Association of Equipment Manufacturers (AEM), which produces CONEXPO-CON/AGG 2017 and IFPE 2017, commissioned IHS Markit to quantify the economics of the North American off-highway equipment and ancillary products industry (including product accessories, tooling and other supporting components) to the economies of the United States and Canada. Key findings of the report were issued by AEM President Dennis Slater at a press conference. Joining Slater on a panel was Scott Hazelton, managing director, IHS, and AEM Chair Michael Haberman, president, Gradall Industries Inc., New Philadelphia, Ohio.
Among the highlights of the report, "The Market Size and Economic Contributions of the Off-Highway Equipment Industry," is the fact that off-highway equipment and ancillary products industry generated US$158.8 billion in economic value, which represented 0.9 per cent of 2016 total nominal GDP in the United States. The report states that the Canadian equipment manufacturing industry supports 149,000 jobs and that in total, "nearly US$34 billion in sales activity is generated directly or supported by the industry, which adds nearly $15 billion to Canada's GDP."
Focus for 2017
Many OEMs and distributors are forecasting growth in infrastructure spending, bulk materials handling, and construction, according to Wisconsin-based Regal Beloit director of Marketing, Bearings, Ian Rubin. "So far this year we've seen a good order rate. As more people start moving rock and stone in the quarries, we expect to see more orders for components. Everybody is trying to get as much uptime as possible."
Regal Beloit's growth is also partially attributable to the company's integration of light-duty components, as well as small and large bore components, said Rubin, noting that the company's power transmission solutions segment is now more than two years old, after the acquisition from Emerson Electric Co. and the integration of brands such as Browning, Jaure, Kop-Flex, Rollway, SealMaster and System Plast into the family. "We are now one-stop shopping. It helps us solve problems. Instead of being one-size fits all, we custom-make for the users' needs."
Look to the future
One of the major draws of this year's show was the emphasis on technology and the future visions for infrastructure and construction. Keeping with the show's 2017 theme, "Imagine What's Next," attendees gathered for a demonstration of the world's first 3D-printed excavator, known as Project AME (Additive Manufactured Excavator). The tech exhibit (Tech Experience) was housed in 75,000-square feet of interactive experience showcases and explored future innovations that shape manufacturing, including forward-looking jobsites, infrastructure development, and workforce development. Attendees also learned how to extract the benefits of autonomous machines and augmented reality in order to achieve precision in operations, cost certainty, specialization and productivity.
Product introductions and line extensions
Exhibitors showcased new and innovative products, as well as best practices for the integration of fluid power with other technologies for power transmission and motion control applications. Here's a look at some of the products that were showcased at IFPE 2017.

CONDITION MONITORING
Among Schaeffler's booth offerings were its X-life products an an innovative PWG differential roller screw, and an array of hydraulic components, including Schaeffler's needle and cradle bearings, tripod rollers, piston rings, Triondur tribological coating systems, as well as its FAG SmartCheck, a breakthrough plug-and-play condition-monitoring device. The modular online measuring system is touted for its timeous ability to detect rolling bearing damage, imbalances and misalignments on electric and geared motors, gearboxes, compressors, pumps, spindles and machine tools.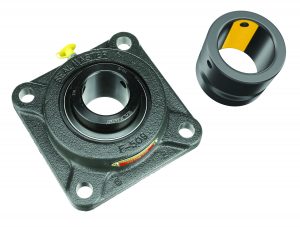 BEARINGS
Regal Beloit Corporation has launched the time saving axial groove in bore feature to the SealMaster Large Bore Performance Gold Line Mounted Ball Bearing. The new feature is available in both a medium 2 7/16" and up and standard 2 11/16" and up shaft sizes, and the time saving axial groove in the inner ring bore allows for easier bearing removal. This design provides clearance from the burr created by the setscrew used to lock the bearing to the shaft, which makes removal difficult and can cause damage to the shaft during removal. This feature has no impact to ball path roundness, load and speed rating, strength or bearing performance.

PUMPS
Parker Hannifin Corp. featured its C-series variable displacement piston pumps, which are designed for use in closed-circuit hydrostatic applications. Featuring a rugged swash plate and bearing design, the pump offers a full range of controls, such as a manual lever with feedback, hydraulic proportional and electric proportional. The pumps are available with a variety of accessories, including hydraulic pressure override, electric cut-off valve and cross-port relief valves to protect from pressure overloads. C Series hydrostatic pumps are rated to 420 bar (6090 psi) continuous pressure and 3800 input rpm.
Another notable is Parker Hannifin's open-circuit piston pump for the mobile market. The P1M product family was developed specifically with the mobile equipment manufacturer in mind. The motion control technologies company reports that power density, space claim and versatility were all taken into consideration in this product's design. The P1M family of products will be assembled on a "no fault forward assembly and testing process" that includes state-of-the-art robotics, precision vision systems and automated leak and end-of-line testing. The P1M product family includes seven standard displacement (cc) options: 28, 45, 54, 65, 75, 90 and 105, and features 280 bar continuous pressure rating for 28 through 75 and 310 continuous bar pressure for 90 and 105.

SEALS
A new generation of low-friction transmission seals designed to save fuel, lower emissions and extend the operating life of industrial powertrains was the order of the day at the Freudenberg Sealing Technologies booth. On display was Freudenberg's Levitas and Levitorq components, which are part of a Low Emission Sealing Solutions (LESS) product portfolio. The company reports that seals are responsible for "nearly one quarter of all lost mechanical energy in today's automatic transmissions." Levitas seals and Levitorq thrust washers both rely on hydrodynamic oil film technology to reduce transmission friction by as much as 70 per cent over conventional components, depending on application conditions.

HYDRAULICS
The main demonstration at the Eaton booth was the application of augmented reality technology in hydraulic equipment. "Instead of manually checking equipment or sorting through data, we believe the future of hydraulic monitoring will include a combination of telematics and advanced visualization technologies like augmented reality, which will help simplify condition monitoring and identifying service needs," said Paul Brenner, global marketing manager, Eaton's Hydraulics Group. Demonstrating this reality, Eaton featured its CMA Advanced Mobile Valve in 3-D via a Microsoft HoloLens experience. Viewers were given an overview of the valve's mobile control capabilities, including Independent Metering, on-board electronics and more immediate communication.
DEMOLITION ROBOTS
Remote-controlled demolition robots manufacturer Brokk introduced the Brokk 500, which features 40 per cent more demolition power than its predecessor, the Brokk 400. A key part of the machine's enhanced performance is the Brokk SmartPower electrical system, a more powerful breaker, extended reach and industry-leading serviceability. The machine delivers 1,086 foot-pounds (1,472 joules) with each blow of the 1,510-pound (685-kilogram) Atlas Copco SB 702 hydraulic breaker. The Brokk 500 will be available beginning May 2017.

COMPRESSED AIR SOLUTION
Sullair unveiled its new 1600H Tier 4 Final portable air compressor. The unit is powered by the Sullair 25 Series air end and a reliable Caterpillar C15 engine and offers versatile operation, rated at 1600 cfm at 100/150 psi. Compared to previous models, the completely redesigned Tier 4 Final Emissions Compliant 1600H is 20 per cent smaller and 2,500 pounds lighter for easier maneuverability, storage, handling and transit.
---
A version of this article appears in the April 2017 issue of Machinery and Equipment MRO magazine.