Sustainability is about meeting the needs of today without compromising the needs of future generations. This can be achieved through the integration of environmental, economic and social priorities, but evolving them into policies and programs requires action at all levels.
At the 18th Plant Engineering & Maintenance Association of Canada (PEMAC) MainTrain Conference, maintenance, reliability and asset management professionals from a cross section of industries revealed how bringing sustainability to the forefront of an organization's asset management strategy, not only has an impact on the environment but also the organization's bottom line. Participants at PEMAC's annual four-day conference taht took place in Toronto (September 19 to 22), showed that working towards more sustainable programs does have benefits and even the smallest step will be in the right direction.
These are just some of the insights discovered in the over 40 workshops, sessions and keynote presentations during the recent professional development conference. Speakers from across Canada and around the world, shared their insights into sustainable, effective and evolving asset management strategies, in a practical way that gave participants the tools they needed to bring back real insight and change to their own organization.
Participants from varying industries including: facilities management; petroleum products production, refining and distribution; ore production, food and beverage processing; forest products manufacturing; power generation; manufacturing; municipal infrastructure management; transportation; plus many more openly shared their challenges, ideas and strategies. Observing the various organizations represented at the conference, and throughout the entire PEMAC member community, it is clear that through their daily work, professionals in maintenance, reliability and asset management roles have a direct impact on the development of prosperous and sustainable cities, regions and nations.
For more than 25 years, PEMAC has prided itself on creating forums like its national conference MainTrain, where members can both share and learn. The national, not for profit association, provides global leadership, education and certification in asset management practices, and promotes the exchange of information and ideas of its members and the profession as a whole. Additionally, regional PEMAC Chapters host forums for connecting and learning several times throughout the year.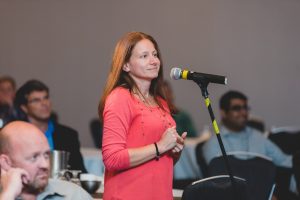 PEMAC's mission also aims to improve its member's professionalism, safety, performance, and outside recognition, by providing specialized education and certification. Programs such as the Maintenance Management Professional Certification and the Asset Management Professional Certification, provide participants with the capability to deliver business outcomes for the organization they serve. Partnered with the conference content, the skills and tools developed in these programs help asset management professionals to think beyond traditional methods and provide innovative and effective solutions for organizations to maximize their ROI with an eye to sustainability.
Planning for the 2017 MainTrain conference has already begun, taking place September 25 – 28, 2017 in Saskatoon. Building on the great content delivered at this year's conference, PEMAC will continue to share insight into asset management strategies that enable success.
To learn more about PEMAC, its certification programs, as well as the many other initiatives it facilitates, visit www.pemac.org.