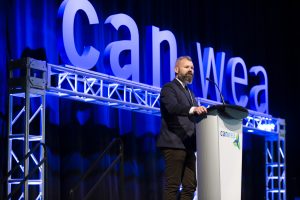 The Canadian Wind Energy Association (CanWEA) held its 35th Annual Conference and Exhibition at the BMO Centre in Calgary, Alberta recently.
Over 1,000 delegates were on hand at the conference, which offered keynotes, plenary sessions, educational sessions, networking opportunities, and presentations.
One of the luncheon keynote addresses was from the Honourable Dustin Duncan, Saskatchewan Minister of Environment and Minister Responsible for SaskPower.
"Saskatchewan's Prairie Resilience plan requires that SaskPower cut emissions in the electricity sector by 40 per cent by 2030. Our excellent wind energy resource will be essential to achieving that, and industry engagement in our recent wind procurement was very strong. We look forward to continued growth in our wind energy capacity through a new wind energy procurement that will be launched later this fall," said Duncan
Topics at the show included: The Future of the Electricity Grid; Navigating the Changing Dynamics in Alberta's Wind Energy Industry;  Keeping the Lights on with Wind Energy – It's Easier Than You Think!; Best Practices for Wind Resource Assessment; A Holistic Exploration of Environmental Management; and many others.
"Integrated, complementary and multi-technology approaches will drive the successful delivery of clean and reliable energy solutions going forward. CanWEA is determined to be at the forefront of this holistic approach, and to maximize the opportunities for the renewable energy sector as a whole," said Rochelle Pancoast, General Manager, Utilities Business Development and Support, City of Medicine Hat, and Board Chair, CanWEA.
Over 100 exhibitors were in attendance at the exhibitor showcase this year. Those in attendance were able to network, see what new products are available, and make connections with those in the industry.
"The CanWEA conference is an excellent opportunity to meet with established business partners and make new connections from across all markets in Canada.  I am always amazed by the passion, enthusiasm, and collective commitment to sustainability within the wind energy industry.  Discussing new and innovative ways of deploying renewable energy across Canada with peers and industry experts really gives me hope that we are leading the market towards a bright and sustainable future,"  said Adam Sirignano, Senior Commercial Manager, ENERCON Canada Inc.
Next year, the conference will be rebranded as Electricity Transformation Canada. It will move to cover the increasing importance of renewable energy solutions that leverage multiple technologies. It will take place November 10 to 12, 2020 in Toronto, Ontario.
"This year's event bookends 35 years of successful, stand-alone wind energy conferences hosted by CanWEA. That's a great foundation as we look towards next year's launch of the Electricity Transformation Canada event. I look forward to an even broader range of participants at that event, and to our ongoing consideration of opportunities for closer collaboration among renewable energy interests to meet the evolving needs of electricity grids and customers," said Robert Hornung, President, CanWEA.