Over 200 industry professionals recently descended on Edmonton, Alberta for the PEMAC MainTrain 2019 conference at the DoubleTree by Hilton Hotel.
"MainTrain conference attendees represent organizations that perform a variety of vital activities including (but not limited to): Astronomical Research; Facilities Management; Food and Beverage Processing; Forest Products Manufacturing; Municipal Infrastructure Management; Ore Production, Refining and Distribution; Petroleum Products Production, Refining and Distribution; Power Generation and Distribution; and Steel Manufacturing. The operations of these organizations tend to be either capital intensive, mechanically intensive or have high consequence of failure – often all three," said Cindy Snedden, Executive Director, PEMAC.
This year's theme was "Connect, Learn & Contribute," and the conference allowed attendees to participate in workshops, sessions, panel discussions, keynote speeches and an exhibition showcase.
Workshops and sessions were presented by industry experts, and allowed for attendees to learn from those who live and breathe the topics they are discussing. Workshops included: Practical Solutions to Improve Maintenance Performance, Asset information Management Workshop, Building Your Maintenance Business Case – Getting a Yes, and many more. Sessions included: Why We Need to Talk About Risk, Asset Decision Framework for Optimal Value, Making Your Asset Management Plan Take Flight, to name a few.
Each morning, attendees began the day with a breakfast keynote. Keynote speakers included: Susan Lubell, President, PEMAC; Bradley Leeman, City of Edmonton; Steve Maybee, VP, Operations and Infrastructure, Edmonton Airports, and Muhammad Ehtisham, Technical Director, Suncor Energy Inc.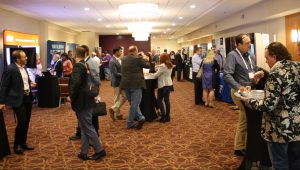 "There has never been a more critical time for our Canadian maintenance, reliability and asset management professionals to balance cost, risk and performance; to attain value for all of our stakeholders; and to build on our proud history of resource economies, respond to the complexities of today and prepare for the uncertainties of tomorrow," said Justyna Krzysiak, Conference Chair.
For those wishing to experience first-hand how organizations manage their maintenance and assets, two tours were offered. One tour was to Rogers Place, the home of the Edmonton Oilers, while the other was at Aurora Cannabis. Both tours were very well attended.
A big part of the conference was the exhibitor showcase, which allowed those in attendance to network with those in the industry as well as find out about the latest and greatest products that are available.
Last but not least, MRO once again hosted its Round table discussion at the conference, and will provide a recap of all the relevant topics in the December issue of MRO.
MainTrain will go east next year as the 2020 MainTrain conference will take place in Saint John, New Brunswick.