The 16th annual Convenience U CARWACS show was recently held at the Toronto Congress Centre in Toronto, Ontario. The show is touted as Canada's largest convenience, gas, and wash industry event. While the main part of the show is the trade show floor, it also offers keynotes and informative sessions for visitors.
This year the keynote topic was "From the place to buy to the place to be: Staying relevant in a hyper competitive industry" presented by Tony Chapman, a leading communications expert.
Other sessions included "Cannabis is now legal. So what Now" presented by Constable Amy Boudreau with the Peel Regional Police and Larry Masotti, Director, Strategic Relationships, at the Workplace Safety and Prevention Services; A great workplace culture is good for your business by George Anastasopoulos, Chief Outcomes Engineer, Leadership Fundamentals; Hiring the right people for the right job by Gail Green, Owner and President, Emergenetics Ontario; and Leveraging OLG innovations to create excitement and drive customers to your store.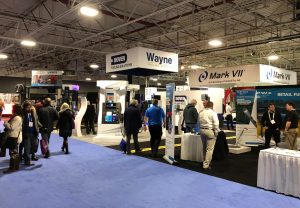 The trade show floor was filled with companies in the food and beverage industry, convenience industry, car wash and gas industry, as well as companies who provide machines to those industries. Examples include Duro-Last Roofing, Eurovac, Hamilton Manufacturing, Kleen-Rite Krown Rust Control, RDM Industrial Electronics, STI Conveyor Systems, Western Refrigeration and Beverage Equipment, and many others.
Those in attendance who wished to participate also had the opportunity to partake in the Canadian Carwash Association semi-annual carwash tour.