NTN held a gala celebration recently at the Omni King Edward hotel in Toronto, Ontario to celebrate its centennial, as well as 50 years of operations in Canada.
"We are so proud of this milestone," said Paul Meo, CEO and President, NTN Bearing Corporation of Canada. "NTN has achieved 50 years of steady growth in the Canadian market and 10 decades of global innovation. Our longevity is a credit to our employees, whose dedication and commitment are key to our competitiveness."
On hand at the celebration was the Right Honourable Justin Trudeau, Prime Minister of Canada, who addressed those in attendance. Other special guests in attendance included: Hazel McCallion, former mayor of Mississauga, Takako Ito, Consul-General of Japan in Toronto, Hiroshi Ohkubo, President, NTN Corporation, and Meo.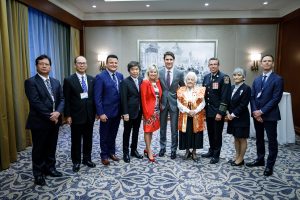 "NTN is a leading example of a long standing Japanese manufacturer in Mississauga that continues to introduce new innovative products to Canada," said McCallion, adding that "the 100th anniversary of NTN's founding is a tremendous milestone achieved in the competitive world of global business."
NTN was established in Canada in 1968 to help support local sales and manufacturing of NTN bearings in the Canadian market. NTN is the world third largest bearing manufacturing and has over 68 plants globally.
"Motion Canada is all about partnership – with our employees, customers, communities and our suppliers," said Dermot Strong, President, Motion Industries (Canada) Inc. "We consider NTN a world-class partner for a number of reasons, but in particular, their program execution drives mutual growth and profitability like no other supplier we work with. That's why we've enjoyed such a long and prosperous relationship with NTN, and that's why we'll continue to partner with NTN well into the future."
NTN has range of bearings, constant velocity joints, and other precision industrial and automotive equipment.  It provides bearing services, which include technical support, maintenance and reliability services, engineering consulting and training.
"NTN's impressive history of building strong industry relationships has contributed to the success of many companies world-wide, including Wajax," said Justin Warren, Vice-President Marketing, Wajax. "We congratulate NTN for their 50 years of service to Canadian industries and for reaching the impressive milestone of 100 years in operation."