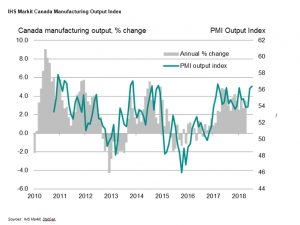 Canadian manufacturing saw a rise in output, new orders and employment in July, the fastest rise in production volumes since March 2017. With that came an accelerated rise in prices by manufacturing firms (which has been linked to impact of US trade tariffs on steel and aluminum).
IHS Markit Canada Manufacturing Purchasing Managers' Index® (PMI™) was 56.9 in July, down slightly from a survey record of 57.1 in June.
"The manufacturing sector continued to perform strongly during July, with growth proving resilient against a backdrop of intense supply chain pressures and escalating concerns about global trade. Output volumes expanded at the fastest pace for almost a year-and-a-half, supported by strong order books and successful efforts to rebuild production capacity in response to rising client demand," said Christian Buhagiar, President and CEO, SCMA.
Regionally, Quebec led the upturn in manufacturing conditions, which was seen in all regions. It also had the greatest lengthening of supplier's delivery times in July. Manufacturers in Alberta and British Columbia had a sharp rise in average cost burdens, and the greatest degree of inventory building.
"While domestic sales remained the main growth impetus in July, the latest survey indicated another solid upturn in new export orders. Delivery times for raw materials lengthened to the greatest extent for over seven-and-a-half years, reflecting shortages of freight capacity and forward purchasing ahead of U.S. trade tariffs. Surcharges on steel and aluminum products placed upward pressure on manufacturing costs, alongside the sharpest rise in prices at the factory gate since the survey began in 2010," said Buhagiar.