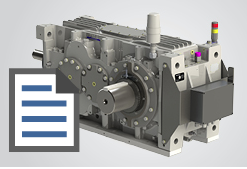 Milwaukee, WI – Rexnord released its newest White Paper, "Avoid Failure and Downtime: Imperatives to Specify Gear Drives." This free-to-download White Paper details how to increase reliability, uptime and profitability by selecting the correct gear drive.
Written by Robin Olson, Director of Applications Engineers, and Tuan Ton, Application Engineer, who have more than 30 years of combined experience with Rexnord products between them. In the White Paper, Robin and Tuan outline the factors that customers need to consider when choosing a gear drive for their application. These factors include:
Load and Speed
Ratio
Configuration
Service Factors
Speed Variations
Ambient Temperature and Altitude
Bearing L10 Expectations
Service Costs
Accessory Requirements
The specifications that are provided to the manufacturer will affect the size and cost of the gear drive that is selected. Generally, the cost will increase as the number of requirements does. Therefore, it's best to specify the basics and only specify additional requirements if they are absolutely required to successfully run the application.
To learn more about Gear Drives, visit www.rexnord.com/gear
Whitepaper: Avoid Failure and Downtime — Imperatives to Specify a Gear Drive