Global filters market forecast
April 5, 2017 | By Rehana Begg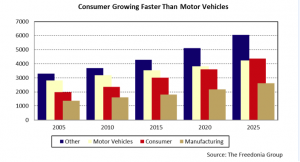 U.S. filter demand is forecast to rise to US$14.7 billion in 2020 on yearly advances of 3.1 per cent, below the global average. Growth will be largely supported by replacement requirements of the large installed base of filter-containing products, such as motor vehicles, industrial machinery, warm air furnaces, industrial pollution control equipment, and consumer air and water treatment systems. These and other trends are presented in Global Filters Market Forecast, a new study from The Freedonia Group, a Cleveland-based industry research firm.
Factors fueling further gains in product demand include:
– a positive economic outlook, including continued growth in manufacturing activity and construction expenditures
– increasing consumer preoccupation with domestic indoor air quality and tap water purity
– a trend toward higher value products, such as those with "smart" features or advanced media
Air and fluid filters are expected to post more rapid gains through 2020, driven by their use in the manufacturing sector, such as purifying process industrial fluids, controlling pollution in air and water waste streams, and enabling hydraulic and pneumatic equipment to run properly.
This brief summarizes the global market for filters, combining the data of two detailed Freedonia Group studies:
For further details on this brief and for more industrial component studies, contact Corinne Gangloff by phone 440.684.9600 or email pr@freedoniagroup.com.