Industry 4.0 – "eMotion Butterflies" make their Canadian debut
December 9, 2016 | By Rehana Begg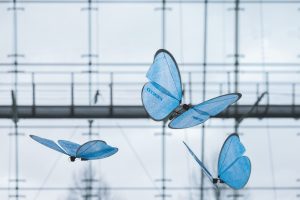 Mississauga, Ont. – Festo's "eMotion Butterflies" have become the latest of the company's unique, nature-imitating bionics to be demonstrated in Canada. Festo Canada showcased these bionic butterflies at the recent Advance Design & Manufacturing (ADM) Expo in Montréal to help spur interest among Canadian manufacturers for its Industry 4.0 concepts and products.
Festo is known for innovative R&D that takes inspiration from nature to find simple, efficient techniques for automating tasks like manipulation, movement, and positioning in order to manufacture bionic parts that meet real industry needs.
Festo's "eMotionButterflies" can fly in a way that closely mimics actual butterflies in nature, thanks to advanced miniaturization and materials. They can set their own flight-paths, even in changing environments. This state-of-the-art technology reflects the potential of Industry 4.0 technologies and automation that will shape the factories of tomorrow. For example, these and other leading-edge Festo Industry 4.0 technologies will be highly useful in creating smart processes on production lines, making them self-adjusting, self-diagnosing and self-configuring to improve production efficiency and reliability and product quality, making companies significantly more competitive.
"This is the first time we've seen bionics technologies of this kind in Quebec," says Patrice Charlebois, Regional Manager-Eastern Canada, at Festo Canada. "ADM (provided) a perfect opportunity to show domestic manufacturers and equipment suppliers how we can be valuable partners in helping them meet their needs and achieve their larger objectives."
For more information, visit www.festo.ca.