Raymond receives highest honour from Toyota Industries Corporation
January 8, 2016
By MRO Staff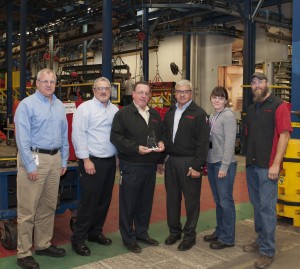 GREENE, N.Y. — The Raymond Corporation received the President's Award from Toyota Industries Corporation (TICO) in recognition of Raymond's exceptional achievements and contribution to Global Quality Improvement Activity for Raymond's paint improvement project at its headquarters and manufacturing plant in Greene, New York.
The activity was championed by Toyota Material Handling Group (TMHG) to ensure the four direct influencers of efficient manufacturing are optimized — man, material, machine and methods. After implementation, Raymond showed significant improvement in its paint process quality.
"Raymond team members successfully embraced the new tools, and their collaboration was an integral part of the process," says Michael Field, president and CEO of The Raymond Corporation. "This is a significant accomplishment for our team. We are honoured to receive this prestigious award."
Raymond was 1 of 5 companies honoured at the global manufacturing and quality ceremony held Oct. 27, 2015, at Toyota Industry Corporations Global Manufacturing Convention in Japan.
To learn more about The Raymond Corporation, visit www.raymondcorp.com.